Dental Crowns:
A tooth that has been structurally damaged by decay or trauma sometimes needs to be crowned or "capped" so that it can look good and function properly again. A crown is a durable covering that is custom-made to fit over the entire tooth from the gum line up. Crown fabrication traditionally takes place in a dental laboratory, so therefore you will be fitted with a custom temporary to wear until your permanent crown comes in. It will take about a week for the crown to come back from the lab.
How It Works

Once the crown's fit has been verified, and any necessary aesthetic enhancements are also verified, the crown will be bonded to your tooth. With a traditional crown, you would have to wear a temporary restoration for one-two weeks while the permanent crown is being fabricated at the lab.
Caring for Your Crown
Crowned teeth require the same conscientious care as your natural teeth. Be sure to brush and floss between all of your teeth — restored and natural — every day to reduce the build-up of dental plaque. When you have crowns, it is even more important to maintain your regular schedule of professional cleanings at our dental office. Avoid using your teeth as tools (to open packages, for example). If you have a grinding habit, wearing a nightguard would be a good idea to protect your teeth and your investment. A well-cared-for crown will last for years to come.
For more information on Dental Crowns in Slidell, LA, please contact Silvestri & Deniger Dentistry by filling out our Contact Form or calling (985) 641-7200 today!
Related Articles on Crowns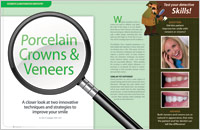 Porcelain Crowns & Veneers Dear Doctor magazine examines two innovative strategies for improving your smile. In many instances, these two restorative techniques can produce nearly identical aesthetic results, even though they are designed differently for handling different structural problems... Read Article
Value Of Quality Care Are all crowns created equal? And why are some crowns more expensive than others? Crown fabrication costs depend upon the materials used, among other factors. Dear Doctor magazine examines these variables... Read Article