Posts for tag: dental implant
By Silvestri & Deniger Dentistry
January 14, 2021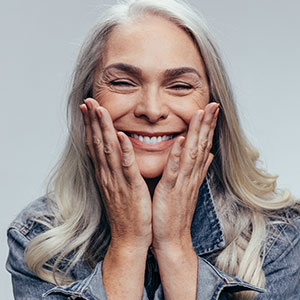 In looking at options to replace your missing teeth, you might have heard others rave about dental implants. You're almost sold on this innovative restoration method—but you're a little skittish about the upfront cost.
Here are 3 reasons why getting dental implants to restore your missing teeth is a sound investment.
A solid long-term solution. Based on findings from over 3 million implant installations over the last forty years, more than 95% of implants continue to successfully function after ten years—and many are on track to last decades. That's something that can't be said for other forms of restoration. An implant's large upfront cost could in fact even out over the long-term and ultimately cost less than other restorations that may need to be replaced sooner.
A benefit to bone health. One of the more negative consequences of missing teeth is ongoing bone loss, a process that can continue to occur even when teeth are replaced by dentures or bridges. But bone cells readily grow and adhere to the titanium metal implant imbedded in the bone, slowing or even stopping continuing bone loss. If for no other reason, their positive impact on bone health is a top reason for choosing implants.
A range of choices. Replacing multiple missing teeth individually with dental implants can be quite expensive. But individual tooth replacement is only one of the ways implants could benefit you. It's possible to place just a handful of implants along the jaw to support other types of restorations like bridges and partial or full dentures. Not only is this cost-effective, but the implant-supported restoration may be more stable and secure. And these implants may also contribute to bone health.
But before you make your decision, visit us for a complete dental examination. We'll assess if your dental condition makes you a good candidate for implants, and then provide you more information on the process and costs.
If you would like more information on dental implants, please contact us or schedule an appointment for a consultation. You can also learn more about this topic by reading the Dear Doctor magazine article "Dental Implants 101."
By Silvestri & Deniger Dentistry
November 21, 2019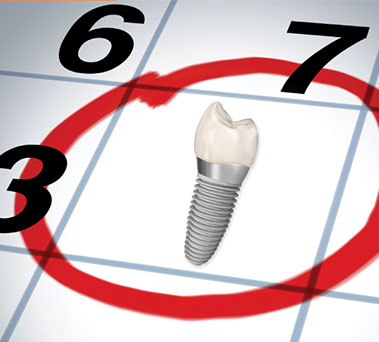 If you've thought the ads for a "new tooth in one day" seemed too good to be true, we have…sort of good news. You can get a new "tooth" in one visit, but only if your dental situation allows it.
The restoration in question is a dental implant, a metal post (usually titanium) surgically imbedded into the jawbone. They're especially durable because bone cells naturally grow and adhere to an implant's titanium surface, a process called osseointegration. Over time this process creates a strong bond between implant and bone.
Usually, we allow a few weeks for the implant to fully integrate with the bone before attaching the visible crown. With "tooth in one day," though, we attach a crown at the same time as we install the implant, albeit a temporary crown. It's more aesthetic than functional, designed to avoid biting forces that could damage the implant while it integrates with the bone. When that process finishes, we'll install a permanent porcelain crown.
The health of your supporting bone and other structures will largely determine whether or not you're a candidate for this "tooth in one day" procedure. Your bone must be sufficiently healthy, as well as the gums surrounding the implant and the tooth's bony socket.
If, on the other hand, you have significant bone loss, gum recession or socket damage, we may first need to deal with these, usually by grafting tissue to the affected areas to stimulate new growth. Your implant, much less a temporary crown, will likely have to wait until the affected tissues have healed.
The bone can also be healthy enough for implant placement, but might still need time to integrate with the implant before attaching any crown. Instead, we would suture the gums over the implant to protect it, then expose and attach a permanent crown to the implant a few weeks later.
Obtaining even a temporary crown the same day as your implant can do wonders for your appearance. A more important goal, though, is a new tooth that you can enjoy for many, many years. To achieve that may mean waiting a little longer for your new beautiful smile.
If you would like more information on restoring missing teeth with dental implants, please contact us or schedule an appointment for a consultation. You can also learn more about this topic by reading the Dear Doctor magazine article "Implant Timelines for Replacing Missing Teeth."
By Silvestri & Deniger Dentistry
June 24, 2019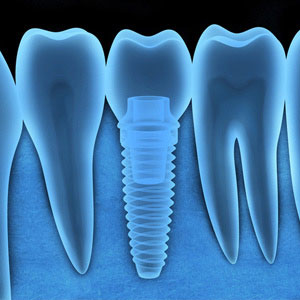 If you know anyone with a dental implant, you may know it can be a long process in getting one. Several weeks or months can pass between removing the old tooth and placing the implant, and then several more weeks before affixing the permanent crown.
But with recent advances in implant technology, some patients don't have to wait as long for a new implant and crown. In fact, one procedure commonly known as "tooth in one day," allows patients to walk in with a problem tooth and out the same day with a new "one."
Not every implant patient, however, can undergo this accelerated procedure. If you're considering implants, the state of your bone health will determine whether or not you can.
Implants need a certain amount of available bone for proper placement. But bone loss, a common consequence of missing teeth or dental disease, can reduce bone volume to less than what's needed to place an implant. The patient may first need to undergo grafting to regenerate the bone or choose another restorative option.
If your supporting bone is sound, your dentist might then proceed with the implant. But you will still have to wait a while for your new crown. The implant needs to integrate with the bone to improve its hold. This integration process can take anywhere from a minimum of six weeks to more commonly twelve weeks. After the attachment is mature, the dentist may need to undo the gum covering before taking impressions for the formation of the new crown.
But it is possible to have a tooth or teeth in a day. For a single tooth, your dentist may be able to immediately attach a crown right after implant surgery if the implant is very stable. Even so, this crown will need to be temporary, slightly shorter than a permanent crown so that it won't make contact with other teeth and put too much pressure on the new implant. After further healing from bone integration, impressions will be taken so that you'll receive your permanent crown shortly.
Immediate crown placement can allow you to have the cosmetic and limited functional benefit of a new tooth right from the start. If multiple implants are placed in one arch in a day, it's possible to have immediate teeth if enough implants are attached together with a temporary restoration.
This is different from a single implant replacing a single tooth and does create confusion for patients when they read about teeth in a day. Regardless, no final tooth crown can be placed at the time of an implant—only a temporary restoration.
If you would like more information on your options for dental implants, please contact us or schedule an appointment for a consultation. You can also learn more about this topic by reading the Dear Doctor magazine article "Same-Day Tooth Replacement with Dental Implants."