Posts for: April, 2018
By Silvestri & Deniger Dentistry
April 20, 2018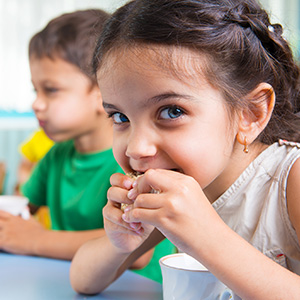 If you're committed to providing your family nutritional, low-sugar snacks, you're not only helping their physical well-being but their dental health too. If you have school-age children, though, you might be concerned about other snacks available to them while away from home.
To begin with, any potential problems at school with available snack items might not be as bad as you think. A few years ago the U.S. Department of Agriculture (USDA) established new snacking guidelines for public schools. Known as the Smart Snacks in Schools initiative, the new guidelines require schools to only allow snacks sold on school grounds that meet minimum nutritional standards. In addition, these guidelines promote whole grains, fruits, vegetables and low-fat dairy products.
Still, the guideline standards are only a minimum, which could leave plenty of room for snacks that don't meet your nutritional expectations. And school-offered snacks aren't the only ones available on campus: there are also those brought by other students, which often get swapped around. The latter represent tempting opportunities for your child to consume snacks that aren't the best for dental health.
But there are things you can do to minimize the lure of these poor snacking opportunities at school. First and foremost is to educate your child on why some snacks are better for them than others. In other words, make nutrition an instilled family value—and, of course, practice what you preach.
You can also send them with snacks you deem better for them than what's available at school. Of course, you'll be competing with a lot of exciting and enticing snacks, so try to inject a little "pizzazz" into yours like a dusting of cinnamon or a little parmesan cheese on popcorn. And use a little creativity (even getting your kids involved) to make snack choices fun, like using cookie-cutters to shape whole-grain bread and cheese into shapes.
And consider getting involved with other parents to encourage school administrators to adopt stricter snack standards over and above the Smart Snacks in Schools initiative. This not only may improve the nutritional content of available snacks, but also transform a "family value" into a community-wide appreciation for snacks that promote healthy teeth and gums.
If you would like more information on dental-friendly snacking, please contact us or schedule an appointment for a consultation. You can also learn more about this topic by reading the Dear Doctor magazine article "Snacking at School."
By Silvestri & Deniger Dentistry
April 10, 2018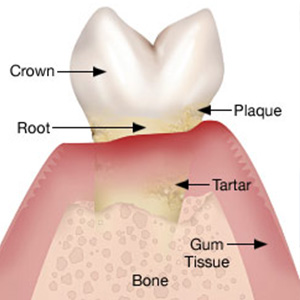 There's more to teeth than meets the eye. Hidden beneath the visible crown are the tooth's roots set within the jawbone, secured and protected by the gums from bacteria and infection. But if the gums shrink back (recede), the roots become exposed and susceptible to disease, especially at the points where multiple roots branch from each other, areas called furcations.
It all begins with periodontal (gum) disease caused by built-up bacterial plaque from insufficient brushing and flossing. The infection triggers inflammation that over time weakens gum tissues. They begin to detach from the teeth, which can eventually lead to gum recession and root exposure.
This also causes bone loss, especially at the furcations. We can detect any loss (known as a furcation invasion) and how far along it may be with x-ray imaging or by manually probing with an instrument called a periodontal probe.
There are three general classes measuring furcation invasions. In the earliest, Class I, we can feel the invasion as a slight groove; in Class II, it increases to two or more millimeters across. In Class III the bone loss extends from one side of the root all the way to the other (a "through and through").
At this stage a patient is in danger of losing the tooth, so we'll have to act promptly. This means first removing accumulated dental plaque and calculus (tartar) to stop the infection and allow the gums to heal. With severe damage, we may need to assist healing with bone and gum tissue grafting, in which we place donor grafts to serve as scaffolding for the appropriate tissue to grow upon.
You can help prevent this situation by practicing effective daily hygiene and visiting your dentist for thorough cleanings at least twice a year (or more if recommended). And at the first signs of a gum infection—swollen, reddened or bleeding gums—make an appointment as soon as possible to have it checked. The sooner we can detect and treat gum disease, the less likely a furcation invasion or worse will be in your future.
If you would like more information on gum disease diagnosis and treatment, please contact us or schedule an appointment for a consultation.